DIY YOUR HOME WALL DECOR
Wall Decor Ideas, Part 1: Choosing Your Look
When it comes to choosing what kind of wall decor you're going to use in a room, the first thing to consider is what type of room you're decorating. Is it more of a public space or a private space? Public spaces, like living rooms, should have art that enhances the theme or color scheme of the room; abstract art are a good choice here. Private spaces, like bedrooms or home offices, are better suited for more personal wall decor, like family photos.
Now that you know what type of wall decor you're going with, let's refine it a little further. Pick a color (or two, as long as they complement each other) and build around that. Rather than matching pieces by theme (which a lot of us tend to do), go with the most visual element—color—as your unifying factor. For those of us who might be more than a little design-challenged, go monochrome; black-and-white tends to match with just about anything.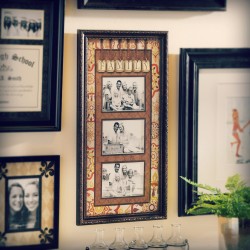 Wall Decor Ideas, Part 2: Just Hanging Around
Now that you've chosen your pieces, it's time to hang them up. Here are a few things to keep in mind when you're hanging wall decor:
The center of the image should be at eye level. In a room where people are usually sitting down, this means that art should be positioned lower on the wall than usual.
If you're hanging art over a piece of furniture, the art should never be longer than the furniture under it. Aim for two-thirds the length as a good rule of thumb.
You're almost there, but don't hang them yet. Place them on large pieces of butcher or craft paper and trace out their shapes. Label each paper shape with what piece it represents, then tape them onto the wall with painter's tape. This way, you can play around with arrangements without filling your wall with extra nail holes when you change your mind. And you will. Multiple times.










Wall Decor Ideas, Part 3: Mixing It Up
You have the wall decor you want. You even have an idea of how you want to hang it. But you're not finished yet. You don't want to fill a room solely with framed prints or metal wall art. You need to mix it up a little. When hanging framed art or Hdmi Wall plate, you can use candle wall sconces or ornamental metal art to accent it and set it apart. Also, when creating collages of pictures on a wall, don't be afraid to fill in spaces with small,decorative wall plate just to break up the theme a little. And you can easily add dimension to a gallery of wall art by hanging small shelves and placing decorative plates or small vases on them.
No matter what you do, don't settle on just one look for your room. Play around with different possibilities, and don't be afraid to try something new or unexpected. One of the easiest ways to add character to a room is through wall decor; it's a powerful and versatile tool. With enough practice, you can even use it to teach your walls to talk. What kind of story would you like it to tell?